People are talking about Shadows of Medusa! Here's a brief sample of what they are saying...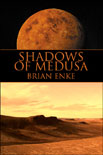 Cover artwork. Credit: PublishAmerica



"You heard it here first: This novel is destined to be greater than K.S.Robinson's Red Mars. The characters are complex and deeply interesting; the surroundings are vivid; the intricacies and mysteries of the plot are sewn up tight! ..."
--- Ms. Bobbi McCutcheon, Author: Father Mars, Mother Earth; Coauthor: Facts on File, Pioneers in Science: Space and Astronomy


---
"Shadows of Medusa by Brian Enke is a genre-busting novel about a first manned mission to Mars. The novel is intrigue/suspense/mystery embedded within a strong and accurate framework of science/science fiction. The action shifts back and forth between the mission itself, where Anna/<microbrain> and her two fellow astronauts struggle to keep their bargain basement mission on track, and mission control and Earth, where David/<shepherd> tries to stay at the helm of mission control while running from the bad guys and never knowing who to trust [the good guys have chosen to remain anonymous and this adds to the mystery/confusion]. Skye, a sexy TV reporter, is this mystery's femme fatale and one corner of the novel's scalene love triangle. As it says in the Preface, there is a need for a sequel, so if you have issues with cliffhangers, avoid this novel. My only complaint is the price [initially $35 from the publisher] - it's way too high for a trade paperback! I hope the price doesn't scare away the readers Mr. Enke's novel deserves. I enjoyed Shadows of Medusa so much I was willing to stay up until 3 in the morning in the middle of the high school standardized testing season to finish it!"
--- Bruce Crocker, an Amazon.com Top 1000 Reviewer


"A gripping adventure in the near future, Shadows of Medusa merges the speculative fiction of Larry Niven with the complex characters and plot twists of Frederick Forsythe. The book introduces the reader to the characters involved in a bold assault on the vacuum of space and the barren sands of Mars. A dedicated team on Earth and in space works together to bring the treasures of this distant planet to humankind. In the mean time, some force is interfering. Problems become hazards and alternatives are blocked off. Is it due to the risks inherent in any such dangerous endeavor with so many unknowns? Is it corruption from within? Is it an attack from outside? As each of these possibilities takes its place as the most plausible, the reader finds himself concerned very personally about the cold blackness of the space outside and the threatening thugs on the other side of the door.

This novel draws us in and holds us there from the enigmatic first paragraph to the exciting and refreshingly hopeful conclusion. Man's most self-centered follies and his greatest aspirations are tested and resolved in this fine book and we see that Man's better nature not only prevails but opens the door to an amazing future."
--- Julian Taylor, Author: "The Flying Crossbeam", 1/14/2006


"This book is so true to reality... this isn't the science fiction you're used to. Characters are deep and complex, their thoughts are inspired and their actions are fluid. Already since he began writing, much of the book has become true, like the formation of a space alliance [SEA]. He explains..."
--- Red Colony webmaster, 2/27/2005.


"This fun, imaginatively woven science mystery about trust and love puts you in the driver's seat of a Mars mission..."
--- Bill Clancey, Florida Institute for Human and Machine Cognition


"The clues are there, as is action and references to some familiar names. If you've ever pitched the Mars Direct plan, or spent some time at one of our habs, you'll enjoy this book. If not, you might learn something about the best way to get humans to Mars. In either case, it's a hard book to put down."
--- Mars Society webmaster, 2/20/2005.


"...With each twist and turn of the plot, the reader is challenged to take the trail of clues to figure out who wants to squelch the mission, and why..."

"...Shadows of Medusa is a thought-provoking, fun mix of science and suspense which has one looking forward to the sequel."
--- The Nederland Mountain-Ear, 5/19/2005


"An outstanding mystery centered around a mission to Mars. Enke's skill as a story teller and his knowledge of space exploration are a powerful combination."
--- Mark Cohen, Author: "The Fractal Murders," a Book Sense Top Ten Mystery.


"...the plot is fascinating and the book works as a novel. We are left eagerly awaiting more from this author."
--- The Huntsville Times, 5/15/2005


"What makes Brian's book unique is that while he follows the adventures of the crew, he also keeps his readers attention firmly focused on this planet through the eyes of the Director of Mission Support. It is an awesome read and I highly recommend it."
--- Shannon Rupert-Robles, MiraCosta College, Director of the Mars Desert Research Station (MDRS) Remote Science Team, 3/30/2005


"... Brian Enke, has written a book, 'Shadows of Medusa', about a mission to Mars. My favorite line is from a scene where the crew is ...[spoilers deleted]: 'Patience. Do everything in order. Step by step, we're settling a new world.'"
--- Commander of Crew 36 at the Mars Desert Research Station, Commander's Log, 3/13/2005.


"Best sci-fi mystery I've ever read."
--- Dr. Tony Muscatello, Chemical Engineer, Pioneer Astronautics; Mars Desert Research Station Director.